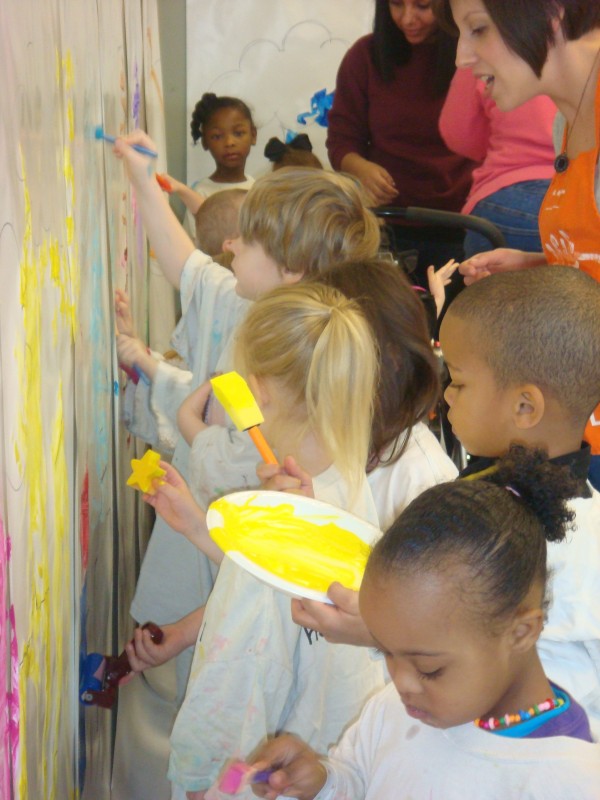 I taught art to the 2 to 4 year olds at Special Care. The plan was to go with the flow and just let the kids enjoy working with all types of different tools and paint. I sketched out an outline of downtown Oklahoma City on poster paper that was attached to the wall. I showed the kids some of various things they could use; found objects, brayers, squeegies, stamps, etc. The kids had a great time experimenting with the different shapes and working together to create a mural. After the painting session, I cut out the buildings & other outlined shapes adhered the abstract scene to black paper.
This was my first time teaching art class there and marks the start for a new art program at Special Care. I hope to bring other local artists from the FRINGE art organization to the school so Special Care can have a multitude of both different artists and mediums.
This amazing school is dear to my heart for so many reasons. I'd like to thank Michael Collins, Pam Dean, Kelly Clark, the teachers, parents and everyone involved. I am so excited to have the opportunity to share art with these amazing kids.
Below is my lesson plan:
"Paint OKC"
A TACTILE MURAL
Ages 2 – 4
Special Care Students will discover how different found objects and tools create different textures and patterns while creating a cityscape of downtown Oklahoma City. There are plenty of sensory elements to this project, such as textures, color and movement. Students with fine motor skills limitations will benefit from the pre-cut shapes, larger surfaces and larger tools, such as squeegee or brayer (roller) & we will also have paint brushes. Children with sensory issues, autism or visual impairments will benefit from art projects that use vivid colors and textures.
Materials
Poster Paper (attached to wall w/ packaging tape)
Tempera Paint
Flat dishes
Aprons
Paper Towels
Stamping and texture making tools (brayers, squeegees, found objects / anything to dip in paint)
Paint Brushes
How to
Set up a paint station with a large piece of paper and flat dishes filled with several colors of paint. Before class, trace an outline of OKC on the butcher paper. In addition to other elements like clouds, sun and trees. Students dip the objects and tools into the paint and apply them to the paper. As students paint, I ask, "Do all of these things paint the same way?" Point out the different spots and say, "You painted here with a stamp and here with a brush." Ask, "Do they look the same? How are they different?" When the paint has dried, students can feel the surface of the painting. Ask, "How does it feel? Is it smooth or bumpy? What object made the smooth part? What object made the bumpy part?"
Set up your own mural displaying the city the students created.
Last Friday, I taught art at my daughter's school. I had the entire 2nd grade – some 80 students at once. They piled on the floor with clipboards eager to create their own masterpiece. Art is not offered until 3rd grade and I volunteered because I believe art is fundamental in early education.
I showed them references to Kandinsky's art as well as talk a bit about abstract art. I also showed the kids a jar filled with water and oil to demonstrate how the 2 substances never mix. Oil crayons and textured paper were passed out and the instruction was to draw anything "not real." Then the classes separated back to their home rooms to do the "resist" with water color over the oil crayon. It's really amazing to see the art from the kids. Next week I will make a mural of all the kids "Kandinsky" inspired art to hang in their cafeteria. Below is my lesson plan.
Lesson Plan
Artist: KANDINSKY
Style: Abstract
Discipline: Science
Medium: Mixed / Resist
Materials:
Oil Crayons
Paper
Water color paint
Paint brush
Water cups
Towels
Demo/Intro
Show the oil and water with food coloring in a jar. Shake it up and explain oil and water do not mix. Their chemical make up is different. Oil forms circular droplets within the water. It floats because its density is less than that of water.
Next, Talk about the artist.
What type of art did Wassily Kandinsky do? Abstract art.
Why did he make abstract art? He found that paintings can be more beautiful without a realistic subject.
Bright colours on a dark background reflected in much of his early work.
He started painting at the age of 30.
The demo / intro is brief and direct so the kids have time to actually make art and can remember some basic facts.
What You Do
Draw a design or picture with crayons. Light colors work the best but the kids can experiment.
Make sure to press hard with the crayons so they show up under the paint.
When you finish your drawing, lightly brush paint over the picture. The areas of crayon will resist the paint.Let the kids enjoy the medium. Shapes do not need to be perfect: in fact, squarish, crooked and off-centre look better than perfect.
2012 ABSTRACT EXPRESSIONISM
I finished "Rusty Cage" this month. I have been working on and off on this piece for almost a year. The canvas has about 15 layers of super heavy textured paint mixed with found objects. I call it art therapy through abstract expressionism. I paint without using intent and continue to add layers until I feel the piece has arrived. I also like to take photos at various stages to reveal all of the changes. This work ties in with my teaching at Special Care this month by using various tools like brayers, palette knives, stamps, squeegies, string, sticks and any other thing you can use to make texture. I think the kids will enjoy this tactile journey as much as I did. This work and "Gold & Ivory" is currently on view at Art Wear.