SOUNDSCAPES @ OKC Science Museum
Check out "Soundscapes" @ Science Museum Oklahoma. I have an interactive sound sculpture "Tympanum" that combines percussion and sculpture. Every month I'll have musicians demo / play the sculpture. Check out the sounds so far and read about the creative process below…
Above: "Tympanum" center, "Umbra Frames" sides, "Ledges" back wall by Christie Owen.
FEB 2013 Jonathan Martin & Clinton Avery Tharp play my sound sculpture "Tympanum" @ Science Museum Oklahoma Feb 2013. Check out Johnathon Martin's band The Ugly Suit & Clinton with The Grown Ups. 
Opening night this guy rocked out… Wish I got his name? Danny ? Anyway, watching and listening to people play is the most exciting part of the project.
MARCH 2013 Lance Pelligrini from Gravity Propulsion System testing my sound sculpture "Tympanum" for the first time. It's the first time Lance or anyone else has played it!
Creative process and production below.
12.1.12
I am starting my project for "Soundscapes." Simply put, I need to have a sculpture that makes sound. I am a lover of percussion instruments (my husband is a drummer) and I am brainstorming…
12.2.12
Researching street drummers, hank drum, tongue drum, Udu drum, Cajon, Bass Pan… From this research, my brain started to conjure up organic shapes of various materials as percussional sculpture. Tomorrow I am meeting with 2 local drummers Mark Owen (husband) and Lance Pelligrini (both formerly of the band Gravity Propulsion System) for input on set up and acoustics. I would like to have them demo the sculpture opening night.
Here is a quick sketch of my plans that harken back to "Ex Nihilio" ( a steel sculpture I made for "Make art not Trash".) Same sculptural concept overall, just with an acoustic element now.
Thoughts: Cymbals will be made from floating brass plates within triangular steel casings. The floor toms, snare and bass drum may be plasticine pads laid into steel and wooden triangles depending on the sound effect.
1.2.13
I have been researching various percussion instruments and have not found any triangular shaped drums at all. My big question now is how does the shape affect the sound? Digging around more there are claims that the round shape of a drum allows to sound to resonate more fully plus Uniform tension at all lugs can only be achieved with a round drum. A non round shell produces different patters, corners or angles may block vibrations… But, the cajon is square! My guess is that a traditional drum like a snare, tom or kick drum has to be round for durability, tension and resonance of sound. BUT, the slit drums, steel, drums, cajon, etc are non traditional therefore I can proceed with the triangular shape.
The other question is the height. I would like to have variations on the height of these drums.
I am going to cnc these wooden slit drums out and start there. This is all experimental so I just have to start by making one first.
01.10.12
Solid Works Rendering / Concept
1.2.13
Today I submitted a grant proposal – here is an excerpt…
The Oklahoma City Science Museum is exhibiting a group show entitled "Soundscapes" February 9th, 2013. I have been invited to participate and I am asking for financial assistance as I am currently working on this project.
My concept for this show is to present a variety of hybrid percussive sculptures titled "Tympanum." (Latin = Drum) I am presenting 8 to 9 modular structures of various heights and sizes that produce specific acoustics when struck with mallets. Triangular prisms form the base of the sculptures and are made from stained wood. The percussion heads are comprised of both metal and wood in various configurations to produce distinct tones. The base of each drum is a resonating chamber for the sound vibrations created when the tops are struck. Additionally, I have been asked to create wall pieces. To correspond with the freestanding sculptures, I will have multiple triangular wall pieces constructed from stained wood and steel attached to the wall. Some with acoustic elements and others as complimentary visuals, this assemblage will also allow reconfigurations in overall composition.
The fusion of sound and image lead me to research percussion instruments. From buskers banging on pots and pans for money, Caribbean steel pannists, legendary jazz and rock drummers to primitive people beating drums made of hollowed trees, the notion any material could become a drum gave way to my design.
An ancient type of idiophone called a tongue drum captured my attention. The tongue drum is one of the oldest instruments in human history. It is an enclosed rectangular box made of hardwood with slits on the top. The shell becomes the resonating chamber for the sound vibrations created when the tongues are struck.  I also stumbled upon the hang drum, which is similar in design but made from metal. These instruments are referred to as "drums" but are specifically called "struck idiophones."
Through research, I also observed a profound dichotomy between wood and metal instruments. The contrast of materials produces a sensory message both carnal and industrial. Wood produces rich warm sounds representing the forest whereas metal tones ring and evoke ethereal and almost galactic vibes.
My work is generally minimalist in form and composition usually with an organic theme. I chose the prism shape for its simplistic aesthetic and to give the user configurative options and ergonomic comfort; the drum sculptures can be played individually, arranged together or apart in any order.
This project is innovative with respect to the triangular design. I have not found the triangular shape in any class of drums and discovered a non-round shell creates different patters of sound.
The Soundscapes exhibit allows my work to cross over to an auditory platform creating a limitless acoustic palette. This sculptural exploration of percussionist power revolutionizes concepts in sound and design while it engages the viewer to become participant.
1.11.13
Richie Knapp came up to the studio today. He is a wood expert and builds beautiful contemporary cabinets. He recommended I check out Pheonix Hardwood and Supply for the hardwood tops. Thanks for coming up to the studio Richie. It's so awesome to have resourceful and sharing people around me. Check out Richie's work.
1.15.13
K.I.S.S. "Keep it simple stupid"
My design is getting more simplified. More efficient. Making more sense to me. Last night my husband and I cut 30° angles on the table saw for the triangular bases. The sides are 3/4 Oak ply. We tried to do a 60° mitered corner but the process was not consistent and a little scary. Mark (my husband) made a jig for the table saw but running some of the larger sheets through was hit or miss on the cuts.
Today I am rounding up the hardwood for the tops. Going to Pheonix Hardwood & Ply.
Here is the revision for the tops.
Here is the wall design… The Science Museum wall are very large and beige so I am going with whites for contrast…
1.18.13 – 1.22.13
Thanks to Butch and Cynthia Curry!!! They spent the weekend with us prepping and running the CNC table to get the hardwood and plywood cut. I could hardly contain myself while I watched the CNC machine perform. Super super exciting!!!
Butch Curry
1.12.13
Some of the hardwood pieces are sounding good. They look super nice… but want to get them sounding cool. The hardwood is 1″ thick so we might plane it down 3/4″ and then 1/2″ to see what happens. It's clear that the steel sheets do not resonate at all on the wooden chambers but they do when suspended. At this point, everything is cut out, looks great and now just needs to sound nice.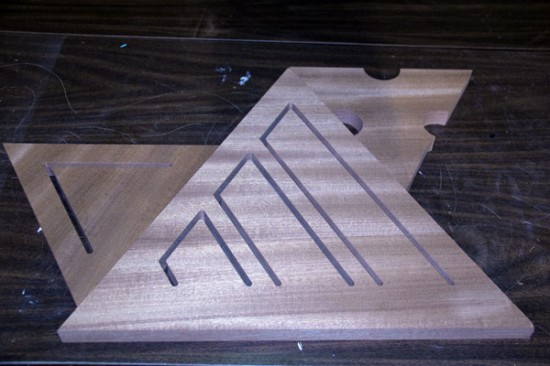 Sapele (African Mahogany) Hardwood with CNC slots cut out.
Plasma CNC on Perforated Sheet Metal
This one has 3 different tones. My husband Mark is gold… He has become my shop slave. It's a fair trade afterall, I worked for him for 10 years… ha ha!
Additional art for the show. These will be suspended from the ceiling with lights passing through to create shadows. I thought of white washing the plywood. Did a sample and decided to go with raw material look instead.
Poor Ever! She has been also held captive at the studio.
1.15.13 – 1.28.13
Grinding & polishing the big gong.
My husband is testing with various mallets.
Lance Pelligrini making some nice beats.